About André Orban


Version française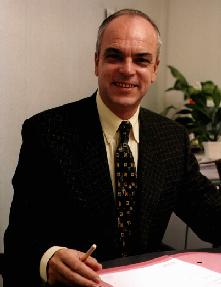 I was born on 14 November 1943 in Westerlo, province of Antwerp (Belgium). I am a chemical engineer and I graduated in 1966 from the University of Liège in Belgium, after having completed a study on the thermal chlorination of methane. I made my military service in Belgium and Germany as a reserve officer in the field artillery of the Belgian Army and I retired from the Army reserve on 1 January 2001 as a Lieutenant-Colonel in the Artillery of the 1st Belgian Mechanized Division of the Euro Corps.
My civilian career started at Sabena in Zaventem (now replaced by Brussels Airlines), where I spent two exciting months in the chemistry and metallurgy laboratory before my military service (1966). I first had to find a way to eliminate cockroaches in planes coming from African destinations, whose maintenance was done at Sabena. Later, I wrote the first register of toxic substances used at Sabena, a "Material Safety Data Sheet" before they became legally compulsory.
After my duty period, I was hired by the largest Belgian chemical company, Solvay, where I worked in the research labs of Brussels/Neder-over-Heembeek for 9 years (1968-1977): research on the synthesis of hexamethylene-diamine (monomer for nylons) , and later polymerisation of vinyl fluoride and vinylidene fluoride (monomers for high-performance fluorinated plastics); and finally development of processing methods for PVDF (polyvinylidene fluoride) and technical service for this new super-plastic.
I was then transferred to The Solvay American Corporation in New York as Assistant Manager Market Research and Development (1977-1978). The job was very eclectic and could be considered as the one of a First Secretary of the Solvay Embassy in New York. During that period, I followed lessons on Industrial Marketing at New York University.
Then I came back to Brussels for another exciting job as product manager for fluorinated plastics (1978-1990). Being responsible for Solef PVDF, its derivatives and all the intermediate chemicals necessary for its manufacture, in all the fields from research and production to marketing and sales and daily management, I saw the product line develop from 200 to 3000 tonnes per year, with a turnover of 30 million dollars throughout the world. I also contributed to the introduction of other polymers: ARYLEF polyarylate, IXEF semi-aromatic polyamide, etc.
After 12 years, I went back to the R&D department of Solvay at Neder-over-Heembeek to take the post of product manager for all the new polymers developed by the company (1990-1993). Apparently this was a post for which I was deemed suitable because of my past experience with PVDF. Thus EREF PA/PP alloys and glass-reinforced PVC compounds were introduced in the market. During these years from 1978 through 1993, I gave some lectures on engineering polymers to the students in chemical engineering at Liège University.
In 1993, due to an internal reorganisation at Solvay, I was transferred to the United Nations to take care of programmes of assistance to countries in transition in Central and Eastern Europe in the field of chemical industry. Hence I started working as an expert economist for the United Nations Economic Commission for Europe (UN-ECE) in Geneva (Switzerland), first in the Chemical Industry section of the Industry Division, and later in the Enterprise Development Section of the Trade Division. My main achievements were in the field of environmental clean-up of soils polluted by chemicals in central and eastern Europe and central Asia, which included the writing of a Compendium of soil clean-up technologies and companies; and in chemical legislation, which resulted in the publication of a CD-ROM called ChemLex, a comparative databank of the chemical legislation in the 55 countries of UN/ECE. During that period, I was living in Ferney-Voltaire (France, near the Swiss border), for which I created an Internet site. Yes, folks, you guessed it: I crossed the border at least twice a day!
In July 1998, I started a new career at CEFIC (the European Chemical Industry Council), working for its affiliate Euro Chlor, where I am the Manager of the Chlorinated Paraffins sector group and of the European Chlorinated Solvents Association. Since 2005 I got the added responsibility of the European Sulphuric Acid Association.
I retired from Cefic and Euro Chlor on 31 December 2008. I then created my own company, A&T Chem Consult, to help chemical companies fulfil their obligations for the REACH regulation of the European Union.
From 1969 to 1974, I was auditor, and later secretary-treasurer of the Brussels section of the Association of Engineers of Liège University. In 1995-1997, I was Chairman of the Polling Board of the United Nations Office in Geneva.
In 2001, I was nominated by the Belgian Government for a post of expert in the Solvents Technical Options Committee of the United Nations Environment Program. The purpose of this committee is to recommend alternatives for ozone-depleting solvents.
I am married to Teresa Stepien, of Poland, and I am the father of three children, Nathalie (1972), Anne-Sophie (1974) and Thierry (1976).
Belgian honorific medals: Commander in the Order of Leopold II, Officer in the Order of Leopold, Officer in the Order of the Crown, bronze medal of the Belgian Red Cross.
Languages: French, Dutch, English, German, elementary Polish and Russian.
My hobbies are photography, commercial airliners, genealogy, music (especially opera), hikes through nature and the Internet. Some links at the bottom of the page will send you to my web pages on these subjects.


Sign My Guestbook - View My Guestbook - View old guestbook entries
---
Home | Chemistry | Airliners | Photography | The Orban's | The Stepien's | Links
---
You are viewing https://andreorban.tripod.com/aboutme.html If you have comments or suggestions, e-mail me at
Last updated on 7 February 2011
Copyright © 1997-2011 André Orban